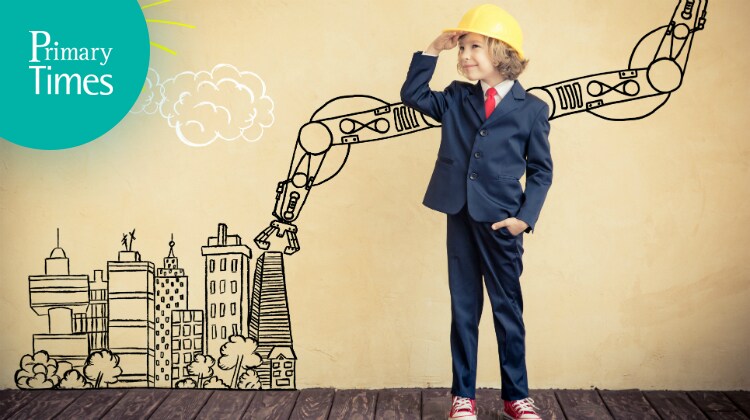 Per una città tutta da sognare
PRIMARY TIMES CLASS PROJECT
Com'è la città ideale dei tuoi alunni? Scoprilo attraverso questa divertente attività di gruppo, che li guiderà alla scoperta dei principali termini lessicali del mondo che ci circonda e metterà in gioco la loro fantasia e creatività.
As the Class projects of Pearson Primary Times have always been appreciated by teachers and children, we will go on publishing them in the Newsletter Spazio Primaria too!
This Issue 1 Class Project can be completed as a small group work or as a class work. It encourages children to become aware of the world around them as they are asked to invent and describe an ideal town in which they would like to live and grow up. The children will be asked to make posters illustrating the town of their dreams with shops, parks, schools, libraries, cinemas and anything their imagination can think of.
Before starting, revise the lexical sets about town, shops, public places. Revise also the prepositions of place as older children could also be encouraged to describe where the places are.
On the back of the poster, or on a different sheet of paper, have the children describe the town they have drawn. Depending on their level and on the vocabulary they know, have them write complete sentences and/or simple information.
Here are some examples:
In my town there is one school, there are two parks and there is one big swimming pool.
The swimming pool is next to the pet shop.
This is a picture of my town. You can see…
There are three cinemas and one greengrocer's.
My Town
Describe and illustrate how your ideal town should be. Include descriptions and illustrations of:
the useful places (school, Post Office…),
the places where you have fun (park, cinema…),
the shops (greengrocer's, stationer's…),
the names of the streets.
Once the Project is introduced to the class, dedicate a little time each week to the preparation of the materials.
All the written language must be in English and physically written by the children. Teachers are asked not to correct or rewrite the sentences produced by the children. The first 120 children who take part in this project will receive a small present as a token of our appreciation for the time and effort taken in the preparation of the materials.
Send the project material together with a copy of the completed project form to:
Pearson Primary Times, Class Projects – Anno 2017 - Issue 1
Pearson Italia S.p.A.
Via Arconati, 1
20135 Milano
The material should arrive in our offices by 15th March 2018. We may publish extracts from some of the projects in future issues of our newsletter. All the materials submitted become property of Pearson Italia S.p.A. and reproduction rights are reserved.